I am no longer allowed to drive.
If you've read my previous blog post about vision loss, this probably doesn't come as any surprise. In addition to the vision issues, I am getting more and more frequent dizzy spells. They come upon me when I look to the side, so if anything, they have made it even less safe for me to drive.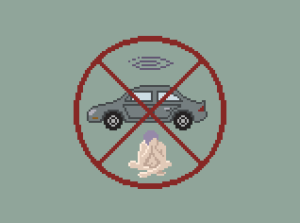 Now I have to rely on other people for so many things. A friend took me to a doctor's appointment today, and my sister is taking me to another appointment tomorrow. I can't go to the store. I can't meet a friend for coffee. I can't go to Fuse. I can't do anything. Not by myself, anyway.
For the first time, I understand why elderly people don't want to give up driving, even when they know they should. It's not the driving they're giving up…it's the ability to do anything alone and without comment.
Think about it: If you needed to ask for rides everywhere you went, how many more people in your life would know all of your private business?? I don't want everyone in my family to know what doctors I'm going to all of the time. Any sense of modesty or privacy has disintegrated between us.
So, here I am, feeling sorry for myself, when I realize that what's hitting me hardest is my own pride.
There is something to be said for letting go of pride and asking the people in your life for help that you genuinely need. Yes, there is a loss of independence, but there is also a loss of pride, which is not a bad thing.
I am going to use this whole experience as a chance to grow. The things that I'm struggling with can make me a better person! I would be a fool to let this chance pass me by!
It's been a while, but when I read Amanda Palmer's The Art of Asking, I knew that asking for help was something I needed to work on. A LOT. Well, here's my chance! I'm going to get tons of practice asking for help!
That being said, please know, dear friends, that "no" is always an acceptable answer : )